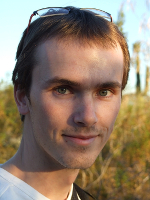 Presentation
TO PROTEST AGAINST THE TRAVEL BAN ENFORCED BY THE TRUMP ADMINISTRATION, I NOW REFUSE TO ENTER THE USA UNTIL A REASONABLE IMMIGRATION POLICY IS ADOPTED.
Several of our colleagues were denied access to the USA because of their nationality. Let's not accept this situation.
A free country does not promote racism, sexism, the distribution of weapons to its population, a ridiculously overpriced education, death penalty, the denial of climate change and repeated lies in general.
Obviously, I happily work with people wherever they come from, whatever their sex and their skin colour.
I am interested in the evolution of the planets and satellites of the solar system. I use both analytical and numerical approaches to understand convecting bodies.
The impact of rheology and melting on the dynamics of planetary mantles is my main concern. I work now mainly on grain size evolution and continental crust generation in ETH Zurich.